All the families!
12:11 pm CDT July 19, 2008
Much thanks to all the families who have shared their stories with us! Hearing about their children's journeys with chd or their own has given us a lot of perspective. Below are some stories........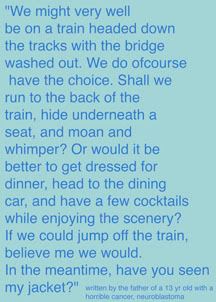 Our daughter Vivian is 22 mos oldnow and has been through the first 2 heart surgeries at Texas Children's Hospital (by the way, Boston is supposed to be a super hospital!). She also has Turner Syndrome, which they guess is what led to her heart developing the way it did. The first year is very hard, but there is so much hope and there are so many amazing kids and families who will share their stories. ********************************************* Parenting a child like ours is like having the Ultimate Parenting Experience. All new parents have no idea what they are doing, what to do. They are all terrified. They all wish someone would come along and take this burden from their shoulders and tell them what to do. They all fake it, just like you will. Our experiences are just more cutting-edge than theirs, our decisions more life and death. You will survive this, and what comes next. One day youll be like many people on this list who have blessedly forgotten the terror and pain of the first two years. Two pieces of advice: 1. Let people help. They want to, and you will need it. Appoint someone to take cre of the medical bills side of it, which can consume a ridiculous amount of time, callbacks and efforts (Every person on this list is an insurance expert, feel free to use us). Warn all those helpful friends and family that you will need to be in seclusion for the 1st six months. Serious seclusion. For your child's life. The isolation is a killer for you and you will lose friends. There are 3 kinds of people, rocks, wishers, and gingerbread men. The rocks will be rocks, the wishers will wish they could help but will be too busy or whatever. The gingerbread men will run as fast as they can. Im sure you think you know who will be who but you will be wrong. All of us were shocked in the beginning by who turned out to be rocks and who turned out to be gingerbread men. 2. The time from now until after the 2nd surgery is the worst. It's the most horrible time ever. After the second surgery everything you thought you knew changes. Your baby will be a compeltely different child and things will be much less critical. It's like a honeymoon until the 3rd surgery. Remember this as you struggle through. After the 2nd surgery it will be awesome. ****************************************************** We didn't have the benefit of a prenatal diagnosis with our son, his HLHS was missed despite four sonograms, so when he was born we were quite suddenly throw into the world of CHD's, having to attempt to absorb a ton of new info in a hurry while we had a baby in a long open heart surgery. It was all a long fog of disbelief and confusion. So, while I'm sure this news is causing you a lot of havoc in your pregnancy, I think you have a great blessing in having this time to learn and research and not be so blindsided. And it sounds like you're off to a great start, with a great hospital. I usually tell people to not assume that the closest hospital/surgeons are the best, many of us travel for surgery. but in your case, you are truly in one of the country's best places---another tremendous blessing. You'll learn to ask a ton of questions and become your son's advocate. Sometimes I feel like a walking medical dictionary from all I've learned over the years! That said, I won't tell you that this is an easy path, it's hard to put your child through multiple surgeries and feel like you're living in a hospital. But then there does come a time when it gets better and easier. We now have a busy, obnoxious teenager who swims like a fish, plays trumpet in the marching band at school and thinks about his heart very little. That would have been impossible for me to see in the beginning of the journey. We've never regretted giving our son a shot at life and I'm sure you won't with your son either. We all learn lessons that we'd never know otherwise through these kids. Keep us posted and ask anything that comes to mind! Kay, mom of Forrest (age 15, HLHS, 13+ yrs post Fontan, pacemaker) and 3 HH's since *******************************************************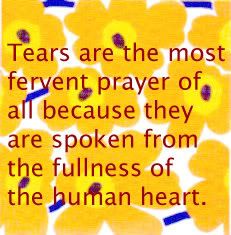 Becca, If you have specific questions please do not hesitate to ask. We all know the emotions, anxiety etc you are going through and I am glad you have found and joined this group. Chasity Crouch- Mommy to Kobe Preston HLHS with intact Atrial Septum, Regurgitation of Tricuspid Valve & Hypothyroid, Post Glenn, Ablation Procedure, Aorta Repair,& Stroke Survivor Monroe Carroll Jr Children's Hospital at Vanderbilt- Nashville, TN ******************************************************** Hi Becca, Wow. Great ultrasound pics. Our daughter, Jessica, was born with HLHS> She is 21 years old and in her last year of nursing school. Here's her website if you would like a peek. www.hearts-of-hope.com/jessica Seize the Day! Patti; wife; mom to john 24, jessica 21, HLHS, katie 15 **************************************************** I never reply to this group. Really my wife just reads the e-mails and I occasionally sift through. Our son has HLHS and just had his Fontan this week. Things went well and we are hopeful he will be home soon. It has been a very rough ride getting here; more than once I never thought we would actually make it. So all I can say is it will be the hardest thing you or your family will ever do. Ever part it terrifying. We had a bunch of complications after the Norwood (wound infection, stroke, kinked conduit that dropped his sats to 17!). It was scary but we made it. We made it. If you are here, on this newsgroup, chances are you will make it too. ****************************************** Thank you again everyone for your support and encouragement :-)
Deb Brown knitted this beautiful sweater! It's machine washable too!
POSTED BY JaspersMom