Jasper gets some new things...
1:32 pm CDT August 1, 2008

With our next echo for the 12th of Sept, and u/s 11 Aug, all we can do is get ready for Jasper. It is nice to have some fun with this pregnancy. ****************************************************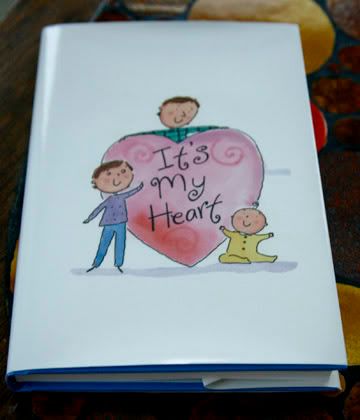 Thank you to the Children's Heart Foundation for the great book we received today. "It's My Heart is a resource book for patients and families affected by congenital heart defects. In plain, understandable language It's My Heart provides descriptions of the types of congenital heart defects and acquired pediatric heart conditions your child may face. Along with explanations of the various tests, surgical procedures, and treatments for CHD's, this book also contains helpful diagrams, a glossary of medical terms, and much, much more. It's My Heart was developed over a number of years by a dedicated group of doctors, nurses and parents in a collaborative effort spearheaded by The Children's Heart Foundation." ***********************************************
The coming home outfit!
The diaper bag!
His wonderful baby book!
His favorite onesie!
This is called "Jasper Note Clip" and it's from our new favorite store www.oompababy.com This will be Jaspers desk when he is 3!
POSTED BY JaspersMom