Visiting Us at the Hospital
8:55 am CDT October 30, 2008
Some people have asked about visiting at the hospital. This is not a usual type of birth, so we will not be as easy to see, between the hospital regulations and us being very busy with Jasper's health. *************************************
***************************************** We won't be allowed to have many visitors and those that do need to schedule in advance so arrangements can be made, all of our time will be needed to spend with the dr.'s and specialists so we can help Jasper as best we can. Germs are a big concern as well, considering his health and that he might have to go into surgery right away so we want to avoid contact with too many people. Thank you for understanding!! Hopefully we will be able to take him home not too long after birth.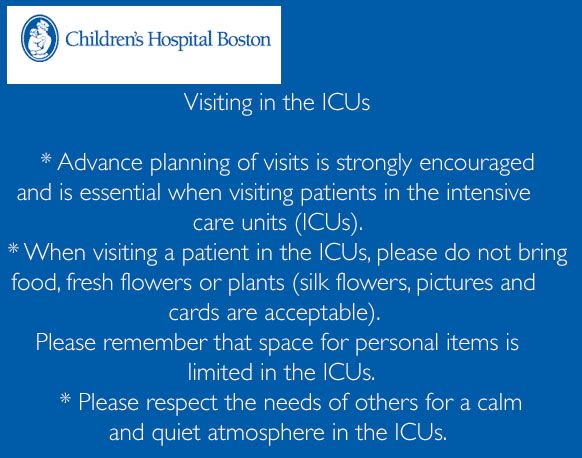 Cell phones Cell phones and other wireless devices (PDAs, Blackberrys, etc.) can not be used on patient floors or near any medical equipment. Please turn them off in restricted areas. However, they may be used by the elevator area on each patient floor, as well as in the main areas of the hospital. **************************************************** * Other Adults -- Friends and family members who are suffering from or have been exposed to any contagious diseases, such as a cold or chicken pox, should not visit the hospital. * Children/Siblings -- Visitors under age 12 must be screened for exposure to any known contagious diseases, such as chicken pox or measles. Visiting children will be given a dinosaur sticker to be worn at all times when they are in the hospital to show they have been screened. Visiting Guidelines * Please allow a maximum of three visitors in your child's room at a time. * Please make sure your child's visitors are considerate of other patients and staff, especially in regard to noise. Parents are responsible for their other children during visiting hours. * Please notify staff on your child's unit in advance when arranging for entertainers or special guests. * Visitors may not bring electrical appliances into the hospital ********************************************* Children's has a public computer so we will post updates when we can! Check his site or his care pages site http://www.carepages.com/carepages/jasperjohnson ***********************************************
http://www.childrenshospital.org/patientsfamilies/Site1393/mainpageS1393P62sublevel64.html
cake from the shower!!!
Food shot from the shower.
a pic from the cicu at childrens
a photo of a baby after surgery, yes this is upsetting to see, so please be understanding when trying to contact/visit us, thank you!
POSTED BY JaspersMom